Popular Yiddish Songs. Hulyet Kinderlach! (Play, dear children!) by Mordechai Gebirtig
yarg115780934.mp3 (MP3 Audio)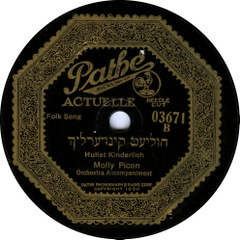 Title:
Popular Yiddish Songs. Hulyet Kinderlach! (Play, dear children!) by Mordechai Gebirtig
Description:
Hulyet Kinderlich! (Play, dear children!). Performed by Molly Picon and orchestra.
Lyrics and music by Mordechai Gebirtig.
Pathe 03671 mx. N 105162-2, New York, February 1924
The song is addressed to the younger generation - children. The lyrics are about the importance of taking advantage of one's youth to enjoy life  - time passes so quickly!