Cantorial Songs. Hateh Elokay! Listen,Oh Lord! Prayer for the Yom Kippur Neilah Service
yarg115331040.mp3 (MP3 Audio)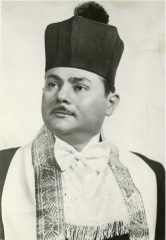 Title:
Cantorial Songs. Hateh Elokay! Listen,Oh Lord! Prayer for the Yom Kippur Neilah Service
Description:
Hateh Elokay.  Sung by the well known Cantor Moshe Koussevitsky (1899-1966) with orchestra. From an unknown Syrena master  (catalog and matrix numbers unknown), Warsaw, circa 1930. Reissued on Collectors Guild lp CG-670, Cantor Moshe Koussevitzky: Earliest Recordings, New York, 1967.
The text is taken from Daniel, Chapter 9, Verse 18 and is part of the Yom Kippur liturgy, Neilah Services.
Born in Smorgonie, Koussevitsky moved to Vilna in 1920 where he became a cantor, first in the Sawel Synagogue, and then in 1924 at the Great Synagogue of Vilna. In 1927-28, he bcame the Cantor of the Tlomackie Synagogue in Warsaw.  He and his family escaped the Nazi occupation and fled to the Soviet Union. He immigrated to the United States in 1947 where he became the cantor of Temple Beth-El in Borough Park.